Please see the front page for the latest information
The morning service is at 10:30am.  We come together to worship God with hymns and songs, prayers and bible readings. We usually have an all age talk, and a biblically based sermon.
There is communion on the 1st and 3rd Sunday of the month.
Families with children are welcome. Depending on the number of children there will be activities available.
Refreshments are served after the service.
Address
Girton Baptist Church
103 High Street
Girton
Cambridge CB3 0QQ
United Kingdom
Email: 

Telephone: 07751 748757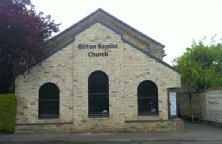 Please park considerately.
We are on a busy road, so we suggest you may want to park either on Manor Farm Road or the Recreation Ground car park.